At the francophone forum Polym'air de rien we were working on perfecting the technique of layering with clay and stamps and liquid clay and more! I didn't get a chance to enter my piece, but
here is a link to the other participants' work.
As usual I made the challenge more challenging than it needed to be.I began with white clay that I made colorful using a batik technique with paper and ink.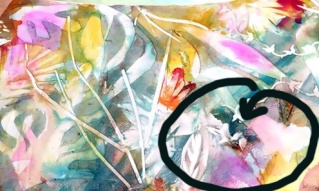 I saw a little bluebird among the random designs, so I made it my focus. I then picked out some of my favorite translucent canes and made some more using my oil paints as usual.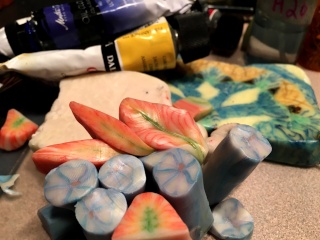 After adding some cane pieces and curing, I gouged out a few lines for fun, then I painted some more and sanded.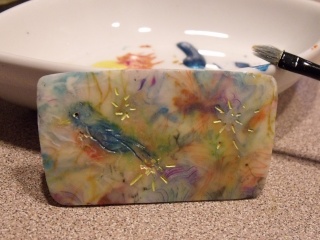 I then encircled the piece with metal tape used for soldering stained glass in order to prevent the liquid from running over the edges. I also added some wispy dried leaves of a nigella plant (love in a mist). Before putting it back in the oven to cure, I carefully set the liquid clay with a heat gun making certain not to make any "waves".
After this I sanded it and made a beaded clay frame.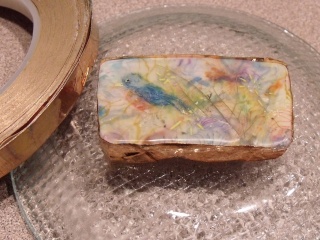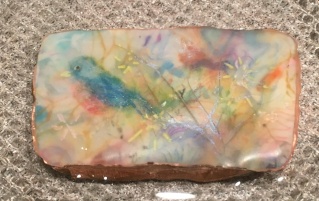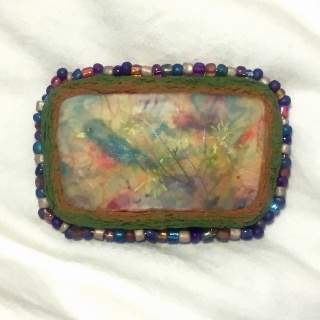 I learned many things from my Polym'air de rien friends along the way - in particular that one can sand and buff cured liquid clay. After sanding and buffing I think it came out pretty nice.